En Georgie, en 1861, Scarlett O'Hara est une jeune femme fière et volontaire de la haute société sudiste. Courtisée par tous les bons partis du pays, elle n'a d'yeux que pour Ashley Wilkes malgré ses fiançailles avec sa douce et timide cousine, Melanie Hamilton. Scarlett est pourtant bien décidée à le faire changer d'avis, mais à la réception des Douze Chênes c'est du cynique Rhett Butler qu'elle retient l'attention...
Autant en emporte le vent, plus grand succès commercial de tous les temps (en dollar constant les Titanic et Avatar de Cameron sont bien loin du compte) est un triomphe sur bien des points pour ses participants. C'est une victoire du système studio dont la rigueur, l'organisation et le flair contribueront à d'autres réussites marquantes en cette année 1939 notamment (et pour rester à la MGM) Le Magicien d'Oz aux images aussi ancrées dans l'inconscient collectif que Gone with the wind. C'est également la consécration de Vivien Leigh, jeune anglaise talentueuse et tenace qui sortira victorieuse du casting le plus disputé de l'histoire du cinéma (Paulette Goddard, Lana Turner, Katharine Hepburn, Bette Davis convoitèrent voire auditionnèrent pour le rôle de Scarlett) toutes les jeunes lectrices américaines du best-seller de Margaret Mitchell se rêvant en Scarlett O'Hara. Le Rhett Butler rêvé par ces même lectrices, Clark Gable endossera le rôle avec réticence tant la pression est grande mais de star, il y a gagnera ses galons de légende hollywoodienne.
Pourtant Autant en emporte le vent est surtout le triomphe de celui qui aura ordonné le projet de bout en bout avec l'autorité et la tyrannie d'un général, le producteur David O. Selznick. Ce succès de longue haleine est le symbole de la revanche qu'il a toujours voulu prendre sur Hollywood. Fils du distributeur Lewis J. Selznick qui cultiva très jeune son goût pour l'opulence, il débute tout jeune dans le milieu du cinéma en tant qu'apprenti pour son père auquel il doit succéder. Tout s'écroule lorsque celui-ci fait faillite et le jeune David jure de redorer le nom de Selznick à Hollywood. Fort talentueux, il devient un des producteurs incontournables du milieu en passant par la MGM (où il débute comme apprenti), la Paramount et la RKO, produisant pour cette dernière des grands classiques comme King Kong. Cela ne lui suffit pourtant pas et en 1936 il quitte la MGM pour fonder sa société de production Selznick International Pictures et en profite pour rajouter le fameux O donnant tout le prestige requis à son patronyme.
On devine dans les premières productions du studio les caractéristiques si marquées des productions O. Selznick, pour le meilleur et pour le pire : un attrait pour l'adaptation littéraire prestigieuse, le romantisme exacerbé et un goût pour l'apparat et le luxe de tous les instants. Le film symbole de la touche O. Selznick est donc Autant en emporte le vent, projet qui manqua de peu de lui échapper. Alors que le livre de Margaret Mitchell n'est pas encore publié, une assistante en lit des épreuves et subjuguée, incite le nabab à en acheter les droits. Peu convaincu, il faudra l'insistance de son employée pour que O. Selznick cède à raison puisqu'une fois paru, l'ouvrage devient un véritable phénomène de société. Il s'engage alors une véritable course contre la montre pour trouver les fonds (Selznick s'associera finalement à la MGM pour le budget) et le casting idéal. En effet, en plus de décrocher la perle rare pour Scarlett, O. Selznick doit réussir à se faire prêter Clark Gable par la MGM ainsi qu'Olivia De Havilland par la Warner dans le rôle de Mélanie. Les remous du tournage en lui-même appartiennent également à la légende. A l'origine le film est préparé en commun par O. Selznick et son ami George Cukor, premier réalisateur envisagé. Si la sensibilité féminine de Cukor fait merveille dans tous les échanges piquants du début du film, Selznick constate rapidement qu'il ne sera pas l'homme de la situation pour communiquer la force des moments épiques prévus.
La séparation est houleuse (mais n'entamera pas leur amitié, Cukor le félicitant même lors du triomphe aux Oscars l'année suivante) et c'est au tour de Victor Fleming d'entrer en scène. Grand ami de Clark Gable, il met celui-ci bien plus à l'aise et confère au film la dynamique qui lui manquait par son énergie et sa rugosité. Cukor cédait à tous les caprices de Vivien Leigh qui cherchait constamment à adoucir Scarlett, Fleming la rudoiera impitoyablement pour qu'elle respecte le personnage du livre (et du script) pour le résultat que l'on sait : un Oscar de la meilleure actrice. Exténué, Fleming quittera momentanément le navire, remplacé une semaine par le modeste Sam Wood avant de reprendre sa place. Wood restera cependant sur la production afin de tourner certaines séquences de seconde équipe d'une production qui a accumulé les retards et les dépassements. Même s'il commet son lot d'erreur de jugements, la vraie force directrice du projet sera donc David O. Selznick. Passionné, exigeant et maniaque, il interfère constamment dans l'autorité de ses réalisateurs (mais trouvera à qui parler avec Victor Fleming) qu'il inonde de mémos pointilleux, aussi ridicules que souvent judicieux sur les détails. Conscient de tenir là le projet de sa vie, son énergie (parallèlement, il produit également le Rebecca de Hitchcock) galvanise une équipe au bord de la rupture. N'en déplaise à la critique française sur la définition du terme, le véritable auteur du film c'est lui.
A l'origine de Gone with the wind, il y a bien évidemment le roman de Margaret Mitchell dont ce sera le seul ouvrage. Née à Atlanta, c'est une véritable enfant du Sud bercée par la mémoire d'une ancêtre ayant vécu la Guerre de Sécession (la légende veut que le livre soit inspiré de son journal intime retrouvé par la romancière) et une mère la promenant souvent dans les vestiges de cette gloire déchue. Vraie aventurière casse-cou, elle défiera son temps en étant une des premières femmes reporters du Sud et injectera beaucoup de sa fougueuse personnalité dans celle de Scarlett O' Hara. Autant en emporte le vent se fait donc le récit de la grandeur et de la décadence de ce Sud glorieux, opulent et fier.
La force de l'histoire viendra du point de vue adopté, à savoir le produit le plus flamboyant et orgueilleux enfanté par le pays, Scarlett O'Hara. C'est d'ailleurs l'ombre de la guerre et l'insouciance capricieuse de l'héroïne qui ouvrent le film. Deux garçons aperçus de dos font la cour à une jeune fille tout en l'entretenant des menaces de guerre imminente. Travelling avant tandis que les deux silhouettes s'écartent pour laisser apparaître dédaigneuse et sûre de ses charmes Scarlett O' Hara, qui exprime alors son profond mépris pour les choses de la guerre et somme ses prétendants de l'entretenir de sujets plus amusants.
La première partie illustre donc ce Sud dans la magnificence légendaire d'un paradis perdu, avec ses habitants fiers et confiants en l'avenir, ses esclaves heureux de leur état et bien traités. Ce dernier point fait (et même déjà à l'époque) tiquer tant les rôles des noirs peuvent sembler caricaturaux et le film est sur la corde raide entre l'interprétation énergique et attachante de Hattie McDaniel (premier Oscar pour une actrice noire à la clé) en Mamma et celle beaucoup plus problématique de Butterfly McQueen qui rejouera les servantes idiotes dans Duel au Soleil.
Lors de la longue préparation en amont, Selznick aura la judicieuse idée d'engager William Cameron Menzies à la conception artistique du film. Véritable génie visuel, il a autant évolué dans les productions anglaises d'un Alexander Korda (Le Voleur de Bagdad, l'étonnant film de SF adapté de H.G. Wells Les Mondes futurs qu'il réalise en 1936) que plus tard dans le cinéma hollywoodien notamment Selznick donc pour Duel au Soleil. Il conçoit pour Autant en emporte le vent des dessins très élaborés, d'une puissance évocatrice et d'une grandiloquence qui ancrent le récit dans un passé mythologique flamboyant.
L'ouverture enchaîne donc les visions fabuleuses telle cette séquence où les ombres de Scarlett et son père se dessinent au pied d'un arbre gigantesque, un travelling arrière dévoilant ce qu'ils contemplent : l'immensité imposante du domaine de Tara où s'affairent les domestiques, baigné d'un soleil rougeoyant, annonçant déjà le crépuscule de ce monde. La mise en scène inspirée de Fleming offre l'ampleur voulue à ces instants, soutenue par la photo somptueuse d'Ernest Haller (qui remplaça Lee Garmes en cours de film) et le score inoubliable de Max Steiner. Cela est contrebalancé par des moments à hauteur plus humaines mais fonctionnant sur la même idée comme cette fastueuse scène de bal où les fanfaronnades des jeunes sudistes alternent avec le début du triangle amoureux entre Rhett Butler, Scarlett et Ashley Wilkes.
Une fois la Guerre de Sécession débutée, c'est à nouveau par l'innocence progressivement perdue de Scarlett que se dévoilent les visions apocalyptiques du conflit. Infirmeries insalubres saturées de mutilés hurlant de douleur, Atlanta à feu et à sang devant l'imminence de la défaite, le film ose d'insoutenables moments de cruauté renforcés par ce parti pris du monumental. L'instant le plus saisissant restera l'arrivée de Scarlett à la gare d'Atlanta, où d'un mouvement de grue s'offre l'ampleur de la débâcle sudiste avec ces soldats blessés à perte de vue. Dans cet enfer peuvent pourtant s'élever des moments plus nobles, toujours teintés par l'ambiguïté des intentions de Scarlett : l'accouchement dans la douleur de Mélanie, la fuite héroïque d'Atlanta dans le chaos et surtout ce baiser arraché à l'héroïne par Gable perd toute la distance ironique arboré jusque-là pour une déclaration d'amour violente et passionnée.
Le retour à Tara désormais ravagé obéit de manière inversée à l'ouverture. Désolation, misère et famine répondent à l'opulence d'antan. Désormais Scarlett n'aura pour but que de rendre leur lustre perdu à ses terres, la seule chose qui importe finalement comme lui déclara son père en d'autres temps plus heureux. Fleming reproduit le même mouvement de caméra que celui du début avec la seule Scarlett cette fois en garante de la fierté sudiste. Tandis que sa silhouette farouche se dresse sous un ciel écarlate, elle hurle à la face du monde que plus jamais elle ne veut à nouveau ressentir cette faim qui la tenaille, voir cette pauvreté qui l'entoure. A n'importe quel prix…
Autant en emporte le vent représente dans l'inconscient collectif (et que l'on ait vu le film ou pas) la quintessence de l'expression du romanesque au cinéma. Pour les détracteurs de cette forme de récit, tout n'y est que grandiloquence malvenue, clichés et mièvrerie en tout genre. Il y a effectivement une union obéissant aux canons romanesques classiques dans Gone with the wind, mais pas celle du couple principal. Ashley Wilkes (Leslie Howard), amour chimère après lequel court Scarlett représente toute la fragilité, la personnalité rêveuse et poétique du héros romantique classique. Sa femme Mélanie (Olivia De Havilland) est la bienveillance incarnée, d'une gentillesse et d'un soutien sans faille pour ses amis et surtout d'un amour inconditionnel et exclusif pour son mari. Il faut toute la conviction des interprètes de ses deux personnages (notamment Olivia De Havilland magnifique) pour ne pas sombrer dans la guimauve la plus appuyée. Un film récent comme Retour à Cold Mountain préfèrera calquer ses héros sur les plus rassurants Ashley/Mélanie que sur le vrai couple infernal au centre du film de Selznick.
Une nouvelle fois, c'est dans l'évolution de Scarlett tout au long du film qu'il faut chercher les motifs de cette romance (d)étonnante grâce à l'interprétation remarquable de Vivien Leigh. George Cukor lui aura dans un premier temps aidé à trouver le ton juste (il la conseillera même après qu'il ait quitté le tournage) de cette Scarlett détestable et attachante à la fois et Fleming la poussera dans ses derniers retranchements afin d'explorer ses vraies zones d'ombres et ne pas en faire une héroïne romantique classique. C'est donc au départ plus par caprice d'avoir été délaissée pour un autre que Scarlett s'accroche au pâle Ashley Wilkes. C'est un homme transparent et faible qui malgré une réelle attirance la repousse par peur de leurs différences de caractères pour épouser sa cousine à la douceur plus semblable à la sienne.
Plus tard, il entretiendra les illusions de Scarlett par manque de courage en ne lui disant pas qu'il est réellement amoureux de Mélanie. Tout en évitement et hésitation, il est l'exact opposé du plus déterminé Rhett Butler. Dès qu'il aperçoit Scarlett lors de la scène du grand bal sudiste, il la déshabille littéralement du regard et le premier échange entre eux (après qu'elle ait été repoussée mollement une première fois par Ashley) sera digne de la screwball comedy la plus enlevée.
Là où un Ashley est un fils de bonne famille transparent, Butler traîne un passé tumultueux de coureur et joueur peu recommandable. Clark Gable confère toute sa masculinité, sa prestance et sa décontraction à ce mauvais garçon séduisant. Il reconnaît immédiatement dans la personnalité volcanique de Scarlett une femme de sa trempe. Cette virilité appuyée, cette force de caractère en font l'homme idéal pour Scarlett, que ce soit dans les morceaux de bravoure (tout l'épisode de la fuite d'Atlanta) où il semble indestructible ou de manière sous jacente le fait qu'il soit le seul homme du film non manipulé par l'héroïne. Au-delà de l'aspect historique ou même romantique, Gone with the wind est un grand film sur la survie. Survie d'un mode de vie, d'un cadre, d'un passé idéalisé. C'est à cela que s'accroche Scarlett à travers Ashley Wilkes ou de manière plus intéressée à son second mari puis enfin Rhett Butler. Pour préserver ses souvenirs, aucune vilenie ne sera de trop, la plus méprisable étant d'épouser le fiancé nanti de sa sœur. Elle cédera enfin à Rhett pour ses richesses (et sa promesse de rénover Tara) sans se rendre compte qu'il est le seul homme auprès duquel elle fut jamais heureuse.
Les héros passent ainsi le film à se manquer les uns les autres, l'intensité des sentiments pour l'autre n'étant jamais semblable au même moment. Cela se manifeste lors de la séquence la plus osée du film où Scarlett découvre enfin ses sentiments pour Rhett. Las d'être à nouveau éloigné de sa femme par le souvenir de Ashley, il l'empoigne sous l'emprise de la boisson vers leur chambre pour ce qui semble rien de moins qu'un viol conjugal. Surprise pourtant lors de la séquence suivante où Scarlett se réveille radieuse, satisfaite et enfin amoureuse de « son » homme.
Le film jusque-là à l'équilibre narratif parfait cède un peu trop dans son dernier tiers à l'avalanche de péripéties (plusieurs morts tragiques interviennent en un laps de temps trop court) pour creuser le fossé entre Rhett et une Scarlett qui a ouvert les yeux trop tard. Le supposé archétype du film romantique se termine donc en forme de camouflet magistral pour son héroïne à travers cet échange cinglant. - Scarlett : "Rhett, Rhett... Rhett, if you go, where shall I go ? What shall I do ?" - Rhett : "Frankly, my dear, I don't give a damn. C'est dans cette absence de compromis que le film trouve pourtant son essence romanesque. En élevant à des proportions monumentales par son cadre les conséquences d'une incompréhension mutuelle, d'une romance avortée, le film parle à tous. A ceux entretenant la rancœur de celui qui les a tant fait souffrir, à ceux qui vivent dans le souvenir de l'être aimé perdu et surtout à ceux qui vivent dans l'espoir jamais éteint de le reconquérir un jour…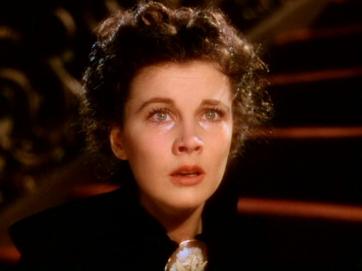 C'est d'ailleurs sur cette note d'espoir que se conclut le film en alliant cet ode au Sud à la puissance romanesque du récit. C'est par Tara, berceau de sa force et de ses origines que Scarlett va peut-être un jour pouvoir retrouver Rhett. Une fin ouverte et fantasmatique* parmi les plus belles de l'histoire du cinéma. After all... tomorrow is another day. * L'inévitable suite viendra d'ailleurs très tardivement avec le roman Scarlett de Alexandra Ripley Scarlett et son adatpation en médiocre feuilleton télévisé où Joanne Whalley et Timothy Dalton reprennent les rôles mythiques. Disponible en dvd zone 2 français et récemment réédités dans une somptueuse édition pour les 70 ans du film.