Cinq lycéens aux caractères totalement opposés se retrouvent en colle un samedi après-midi. Au fur et à mesure que la journée passe, ils discutent, se déchirent et finissent par se trouver plus de points communs qu'ils ne pensaient.
Breakfast Club
, par la grâce du scénario brillant de John Hughes, offre une assez incroyable évolution de l'infiniment commun au ton le plus introspectif. Le teen movie donne en général un reflet des communautés les plus répandues dans les lycées américains, plus ouvertement segmentées que dans les écoles françaises ou européennes. Il y a celles officiellement établies comme les sportifs ou les pom-pom girls et d'autres
plus insidieuses mais tout aussi fondamentales avec en haut de l'échelle les « populaires », bien de leur personne, tandis que les fauteurs de troubles ainsi que les intellos (ou les « nerds ») sont mis au banc, chacun à leur manière.
Tout ce beau monde vis en vase clos avec ses semblables durant toute la scolarité et ne communiquent avec les autres qu'en cas de rapprochement sentimental (les sportifs et les populaires) ou dans un but de moqueries (les sportifs/bizarres, populaires/intellos…). Près de vingt ans plus tard, le film
Lolita malgré moi
apportera un renouvellement bienvenu au genre en adoptant une approche sociologique (voire ethnologique) et humoristique pour traiter de tous ces groupes.
the brain
(Anthony Michael Hall l'intello),
the prom queen
(Molly Ringwald habituée de Hughes, la fille populaire),
the criminal
(Judd Nelson, le rebelle),
the basket case
(Ally Sheedy la détraquée) et
the athlete
(Emilio Estevez, le sportif).
La première partie du film montre donc chacun d'entre eux jouant son rôle et forçant le trait dans l'image que les autres se font de lui. John Bender (Judd Nelson) va donc se montrer parfaitement odieux avec chacun de ses camarades, qu'il va cruellement mettre en boîte et faire preuve d'une insolence insouciante envers le principal Richard Vernon (Paul Gleason) chargé de les surveiller. Andy (Emilio Estevez) va quant à lui jouer les gros bras tel que l'implique son statut de sportif, tandis que Molly Ringwald adopte l'attitude pimbêche et prétentieuse de la jolie fille gâtée qu'elle est. Les laissés-pour-compte se montrent à la hauteur aussi, Brian (Anthony Michael Hall) alignant les répliques hors de propos et Allison (Ally Sheedy) multipliant les bizarreries sans décrocher un mot à personne. Cela tournerait presque à la démonstration schématique si Hughes ne distillait pas un humour ravageur et une empathie certaine envers ces ados enfermés dans le paraître, volontairement ou non. Sous l'attitude calculée, la coquille de chacun va peu à peu se fissurer…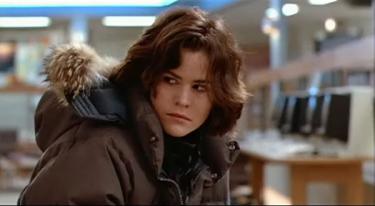 C'est souvent l'éducation, le milieu social et la relation parentale qui déterminent l'appartenance d'un adolescent à un de ces fameux clans lycéens. Hughes pousse ces comportements prédéterminés à leur paroxysme pour révéler le cœur de ces héros. La première faille interviendra lors d'une énième moquerie de Bender où il raille la vie de famille supposée idéale et niaise de Brian. Lorsqu'on lui demande comment se déroule son quotidien à lui, il dévoile (sans quitter son ton excessif) qu'il a été battu par un père ultra violent. Superbe prestation de Judd Nelson à cet instant-là, laissant deviner le désespoir résigné sous ses airs bravaches. Précédemment, une sentence cruelle de Vernon aura également ramenée le jeune homme au triste avenir que son environnement lui promet. On comprend que la révolte de Bender s'exprime dans la provocation, et ce n'est pas un hasard si ses cibles principales son Molly Grinwald et Anthony Michael Hall, qui sont les plus représentatifs dans le groupe de
l'american way of life
.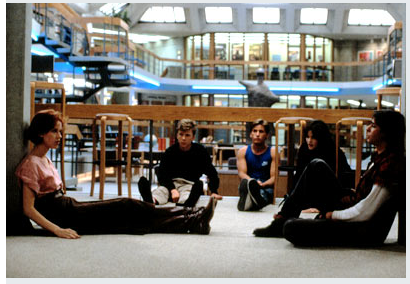 Au plus près de ses acteurs, la caméra se déplace autour du cercle et on comprend là ce qui toucha tant d'adolescents à la vision du film. Ce cercle, ils en faisaient partie également et ces aveux sur les difficultés d'avancer chaque jour étaient les leurs. Durant cette scène, la question du comportement à adopter les uns par rapport aux autres le lundi venu sera posée par Anthony Michael Hall. En effet, après ce moment de partage les carcans peuvent-ils exploser hors du
Breakfast Club
? La solution reste ouverte mais il suffit de se souvenir du regard illuminé d'Andy face à une Allison révélée dans sa beauté, de l'ultime regard entre Bender et Molly pour se dire que quelque chose restera forcément de ce samedi magique.
Don't you, forget about me…
Sorti en dvd zone 2 français chez Universal