Ning (Leslie Cheung) est un inspecteur des impôts un peu timide, qui doit se rendre dans des campagnes reculées pour faire son travail. Lors de l'une de ses habituelles tournées, il passe la nuit dans le temple Lan Jou. Il rencontre le taoïste Yen (Wu Ma) et une femme mystérieuse Hsiao-Tsing (Joey Wong). Celle-ci est un fantôme séduisant les hommes pour les offrir à son maître l'arbre démon.

Film emblématique de l'engouement de l'occident pour le cinéma de Hong Kong (avec un peu plus tard The Killer de John Woo), Histoire de fantômes chinois est la première manifestation marquante de la politique d'hybridation de Tsui Hark. Bien que réalisé par Ching Siu Tung (brillant homme à tout faire de la FilmWorkshop et grand chorégraphe d'arts martiaux), on peut largement attribuer le film à Tsui Hark tant il porte son empreinte, sa réputation de producteur omnipotent étant bien connue (nombre de films de la FilmWorkshop signés par d'autres lui sont attribués comme L'Auberge du Dragon).

Le film est l'adaptation de la nouvelle Petite Grâce de Pu Song Ling (grand auteur chinois du XVIIe siècle), issue du recueil de textes fantastiques Liao Zhai (sorti en France sous le titre Chronique de l'étrange, Ed. Philippe Picquier). Celui-ci se caractérisait par des récits confrontant toujours un jeune et innocent lettré à des puissances surnaturelles, bienveillantes ou non et le plus souvent dépeintes sous les traits d'une belle jeune fille. Hormis une conclusion plus tragique, Tsui Hark ne modifie pas outre mesure la trame du texte original. C'est au niveau esthétique que le bouleversement se fera, le réalisateur y définissant pour les dix ans à venir l'imagerie du wu xia pian (film de sabre chinois) et développant les différentes touches qui feront toute la particularité de The Lovers et Green Snake.
L'œuvre de Pu Song Ling avait déjà connu une première version filmée en 1960, The Enchanting Shadows réalisée par Li Hang-Hsiang pour la Shaw Brothers. Par l'apport d'influences diverses et variées, Tsui Hark va respecter et pervertir à la fois le souvenir de cette œuvre fortement imprégnée dans l'inconscient collectif local. Le récit convoque tout le bestiaire démoniaque du folklore chinois : esprits malins, revenants, démons et autres animaux maléfiques.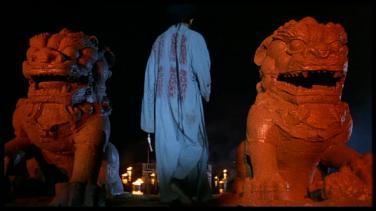 Comme l'avait déjà démontré Zu et ses effets visuels en pagaille (dûs en partie à l'équipe des Star Wars) Tsui Hark est fortement influencé par la production occidentale (ses études de cinéma aux Etats-Unis le prédisposant plus à l'ouverture que d'autres). Les diverses créatures traversant l'histoire se voient donc attribuer des caractéristiques évoquant notamment les classiques de George Romero et Sam Raimi, La Nuit des morts vivants et Evil Dead.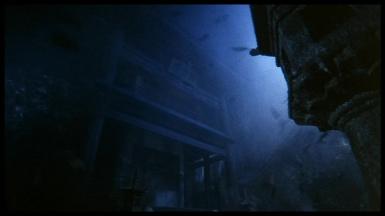 Les maquillages outranciers des démons, les transformations grotesques du méchant, les travellings agressifs et l'ambiance générale des séquences horrifiques en forêt lorgnent largement sur le film de Sam Raimi. Le tout marié aux séquences martiales chorégraphiées par Ching Siu Tung et aux effets drapés des apparitions/disparitions de Joey Wong, donnera un résultat étonnant, entre grâce absolue et aspect bricolé, alternant les moments contemplatifs et la frénésie débridée.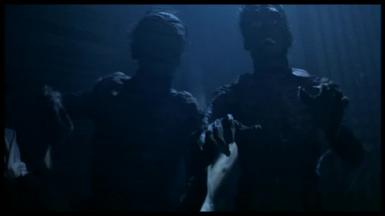 L'aspect le plus fascinant de Histoire de fantômes chinois reste cependant son mélange de romance et d'érotisme soft. Grand découvreur de talents, Tsui Hark révèle deux immenses stars en devenir du cinéma hongkongais, Leslie Cheung (jusqu'ici chanteur pop cantonais) et la divine Joey Wong. La maladresse et l'innocence du premier associée à l'aura glamour et la beauté éthérée de la seconde offriront de purs moments de grâce romanesque et piquante.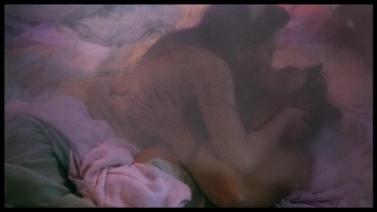 La photo ouatée, les couleurs pastels et la musique envoûtante de James Wong (dont la sublime chanson accompagnant la scène d'amour des héros et ses paroles poétiques traduisant leur fatalité) se mêlent dans l'instant le plus magique du film : dissimulé des démons dans un bac d'eau et manquant d'air, Leslie Cheung est sur le point de se trahir quand Joey Wong à moitié nue lui redonne du souffle dans un baiser passionné. Magique.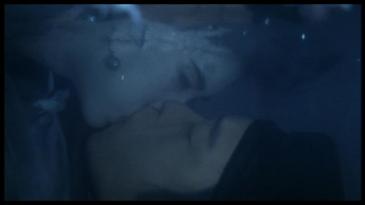 Succès relatif à Hong Kong mais au retentissement international certain, Histoire de fantômes chinois connaîtra deux suites avec un deuxième volet plus sombre imprégné du traumatisme de Tian'anmen et un troisième en forme de remake répétant l'histoire cent ans plus tard. Quant à Tsui Hark, après avoir réinventé la forme du conte chinois, il va pouvoir le malmener sur le fond dans Green Snake et The Lovers.

Sorti en dvd zone 2 français chez HK Vidéo dans un magnifique coffret réunissant les trois films.