Rowf, un labrador, et Snitter, un fox-terrier à poil lisse, vivent dans un laboratoire d'expérimentations scientifiques, l'ARSE, situé dans le Lake District, au nord-ouest de l'Angleterre. Une nuit, ils découvrent un moyen de s'évader du laboratoire afin d'échapper aux expériences cruelles qu'ils y subissent. Peu après, une rumeur se répand selon laquelle les deux animaux pourraient être porteurs du virus de la peste. Pris en chasse par des militaires et par les médias, les deux chiens, guidés par un renard, tentent de s'échapper vers une vie meilleure.
Quatre ans après le succès de
Watership Down
, Martin Rosen s'attaquait à une seconde adaptation d'un roman de Richard Adams avec
The Plague Dogs
. Rosen avait parfaitement su retranscrire les écrits d'Adams dans
Watership Down
qui mêlait avec brio récit écologique, onirisme et grande aventure ainsi que d'audacieux écarts de violences et paraboles guerrières où Adams intégrait des éléments de son expérience de la Deuxième Guerre Mondiale. On en retrouve les mêmes qualités mais cette fois ornées d'une noirceur et d'un désespoir qui rendent la vision bien plus difficile que l'aventure picaresque du film de 1978. Les préoccupations écologiques de Richard Adams justifiaient cette tonalité sombre et c'est encore plus vrai avec
The Plague Dogs
bien plus austère et oppressant. Dès l'ouverture le ton est donné avec le traitement révoltant infligé à un chien que des scientifiques font nager dans un bassin jusqu'à l'épuisement pour tester son endurance.
Nous nous trouvons dans un laboratoire scientifique gouvernemental où les animaux abrités dans des conditions cruelles sont à la merci des tests les plus sordides. Rosen impose d'emblée une atmosphère étouffante et claustrophobique, les humains (parti pris tenu tout le film) ne sont qu'une présence vocale froide détachée des actes qu'ils commettent et forment des silhouettes indistinctes et menaçantes. On est également loin de l'atmosphère fantastique et colorée de
Watership Down
dans la gamme de couleurs sombres du laboratoire où le bleu froid accompagne l'inhumanité et l'hostilité des lieux.
Rowf l'imposant labrador (et victime d'ouverture) et Snitter le petit fox-terrier réussissent miraculeusement à s'échapper mais un autre enfer les attend à l'extérieur. On suit ainsi leur longue errance tandis qu'en parallèle leurs actes sonnent le mécontentement des fermiers locaux, puis des médias et conduisent à une traque impitoyable. Nos deux chiens sont désormais des inadaptés. Rowf n'a connu que les tourments des laboratoires et Snitter vit dans le souvenir des temps heureux où il avait un foyer et un maître qui l'aimait. Ce dernier point amène une dimension psychologique inattendue, Snitter victime d'une opération au cerveau (et doté d'une hideuse balafre) étant sujet constamment aux hallucinations dans lesquelles il revit l'instant où il causa accidentellement la mort de son maître.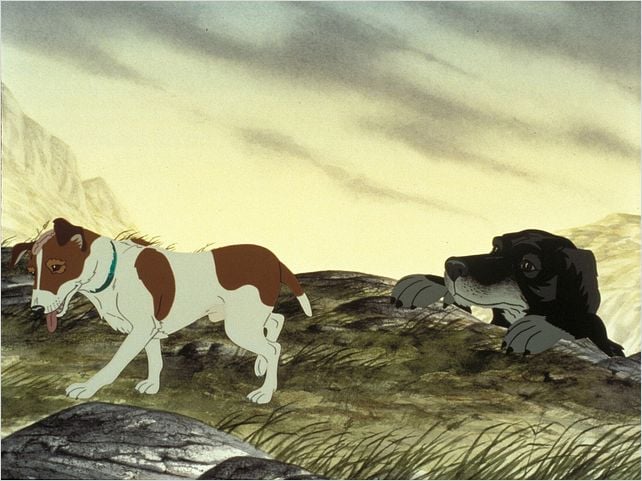 Le fossé s'avère insurmontable lors d'une séquence où il provoque à nouveau la mort du seul humain amical et affectueux du film. Echouant à susciter l'amour des humains qu'ils croisent et par qui ils aimeraient tant être adoptés, Sniff et Rowf ne sont pas non plus des bêtes sauvages capables de survivre aux rudesses de la nature comme le prouvent les maladroites séquences de chasses où ils sont aidés par un renard.
Le récit est plus minimaliste pour dépeindre cette errance sans but. Les maltraitances des humains ont fait de nos chiens des êtres entre deux mondes condamnés à errer sans but. La mise en scène de Rosen capture cette absence d'enjeu par une sobriété constante où la désolation du cadre naturel montagnard répond aux regards incertains des chiens dans l'expectative, s'interrogeant sur ce qui leur arrive. Comme dans
Watership Down,
pas d'anthropomorphisme superflu, nos chiens se meuvent et se comportent comme de vrais canins et seules les voix habitées de John Hurt (déjà de l'aventure
Watership Down
) et Christopher Benjamin viennent apporter un tour plus concret à leurs doute et leur incompréhension.
On sent que Rosen a perfectionné sa technique par rapport au premier film (arrière-plans plus fouillés, décors plus aboutis) mais l'animation bien que plus fluide donne quand même un sentiment de statisme volontaire servant le propos. La poésie de
Watership Down
ne ressurgira que lors de la conclusion mélancolique, Rosen laissant à l'interprétation de chacun une fin apaisée ou un espoir incertain à Rowf et Snitter.
Sorti en dvd zone 1 chez Anchor Bay ou encore en zone 2 anglais mais malheureusement sans vf ni sous-titres français. Par contre le film ressort cette semaine en salle à Paris et Toulouse, pour ceux qui peuvent c'est une occasion unique de découvrir ce bijou. Watership Down (déjà traité sur le blog) devrait ressortir dans l'année également grâce au distributeur Splendor Films qu'il faut saluer pour cette initiative
.