Ce film évoque la vie de l'acteur Bob Crane qui, dans les années 1960, était animateur vedette d'une émission de radio à succès. Il est également père de famille et époux comblé. Mais lorsqu'on lui propose le rôle vedette d'une série humoristique, c'est le début de la gloire destructrice. Sa rencontre avec le technicien vidéo John Carpenter, qui le pousse à développer son obsession de l'image mais aussi des femmes. Au fil des années, dans une quête de plaisir et de sexe, Bob Crane va peu à peu perdre sa famille, sa carrière et lui-même...
Pour Paul Schrader, l'art délicat du biopic est tout sauf une récréation. Avec
Mishima
, il réalisa une œuvre unique en son genre, parvenant à marier la poésie des écrits et la personnalité trouble de l'auteur japonais, grâce à des fulgurances picturales de tous les instants.
Auto Focus
est au départ un projet moins personnel (le scénario n'est pas de lui mais proposé par le studio) mais Paul Schrader va y trouver des thèmes irriguant son œuvre. Tout comme
Mishima
,
Auto Focu
s dépeint le destin d'une personnalité controversée, Bob Crane, star sulfureuse des années 60 morte dans des circonstances sordides. Le film adapte plus précisément
The Murder of Bob Crane
, livre de Robert Graysmith (auteur de
Zodiac
, adapté plus tard par David Fincher) qui s'attardait en détails sur les circonstances ayant conduit le héros de la série
Papa Schultz
(
Hogan's heroes
en VO) au point de non-retour.
Blue Collar
un peu à part, toute l'œuvre de Paul Schrader, réalisateur comme scénariste, semble se partager entre une attirance pour le stupre et le vice qui s'oppose à une obsession pour la dimension chrétienne du péché et de la rédemption. Ce sont ces facettes qui lui permettront de si bien collaborer avec Scorsese (pour lequel il écrivit
Taxi Driver
,
Raging Bull
,
La Dernière Tentation du Christ
ou encore
A tombeau ouvert
) pétri des mêmes questionnements. Tout comme Scorsese mais de manière plus prononcée encore, cette dichotomie vient de l'éducation même de Schrader. Il est élevé dans une famille calviniste à l'éducation stricte lui interdisant même de voir des films, sa passion pour le cinéma naissant sur le tard à la fac.
Tout d'abord critique (et auteur d'une thèse
Le style transcendantal au cinéma : Ozu, Bresson, Dreyer
faisant référence), il devient par la suite un des scénaristes vedettes du cinéma américain des seventies. Cet Hollywood de tous les excès (narrés dans le détail dans le livre Peter Biskind,
Le Nouvel Hollywood
) Schrader y plongera de plein pied comme pour se débarrasser des derniers oripeaux de son éducation religieuse. L'inévitable culpabilité qui en naîtra nourrira la dualité et la schizophrénie de ses meilleurs films et scénarios. Le héros d'
American Gigolo
voyant son mode de vie se retourner contre lui, la description sordide du milieu porno naissant dans
Hardcore
ou encore sa relecture toute personnelle de
L'Exorciste
dans
Dominion
sont là pour témoigner de la piété qui l'habite encore.
La Féline
de Tourneur (où une métaphore sur la frigidité féminine devient une ode à l'éveil du désir) et
Patty Hearst
où une kidnappée se range du côté de ses ravisseurs, démontrent son attrait pour l'interdit. Quant à
Mishima
,
Affliction
et
Taxi Driver
, ils illustrent le type de personnages qu'affectionne Schrader : pétris de bonnes intentions mais rongés par leurs démons, les poussant à commettre des actes néfastes et auto destructeurs.
Auto Focus
, s'avère donc être un condensé idéal de toutes les problématiques du réalisateur, et à travers le parcours de Bob Crane, c'est sans doute un certain reflet du sien que Schrader entraperçoit.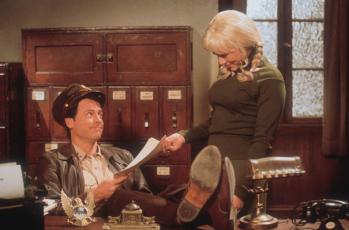 Personnalité du monde du showbiz des années 60, Bob Crane se fait tout d'abord connaître par ses émissions de radio, faisant preuve d'une provocation novatrice. Il accède ensuite à la célébrité grâce à la série télé
Papa Schultz
dont il est le héros. C'est l'arrivée des tentations diverses notamment avec la rencontre du très louche mentor John Carpenter (joué par Willem Dafoe) qui va le faire sombrer dans une existence vouée au sexe et à la dépravation.
Auto Focus
se fait donc le récit d'une lente descente aux enfers, montrant un Bob Crane prêt à tout sacrifier au profit de son train de vie dissolu. L'esthétique du film renvoie l'image d'un conte de fée inversé. Le début véhicule une belle imagerie « americana », avec la banlieue pavillonnaire proprette où vit Crane, les intérieurs tellement artificiels que l'on pense davantage à une maison témoin qu'à un vrai foyer. Les couleurs criardes et pop des vêtements, les physiques WASP de la famille de Crane constituent une sorte de cliché idéal coincé entre les années 50 et 60, dimanches à l'église inclus. Schrader force le trait pour mieux tout faire voler en éclat lorsque l'existence de Crane se disloque. La photo se fait de plus en plus sombre et désaturée, la mise en scène très « ligne claire » publicitaire laisse place à une caméra aux mouvements incertains témoignant de la confusion intérieure d'un Crane qui a dépassé les limites. Greg Kinnear, avec son allure de gendre idéal reflète parfaitement la fausse image que pouvait véhiculer Bob Crane et délivre une belle prestation en obsédé sexuel pervers. Schrader l'embellit subtilement par la magie du numérique et de rajouts capillaires avant de faire disparaître ces artifices dans la seconde partie pour renforcer sa déchéance physique. Schrader dont la filmographie est souvent partagée entre esthétique tape-à-l'œil (
La Féline
,
Mishima
) et imagerie austère (
Affliction
) ne pouvait trouver meilleur écrin que le destin tragique de Bob Crane.
Le film se fait également l'écho d'une société américaine changeante, à travers la libération sexuelle mais aussi la démocratisation de la pornographie (ici domestique) avec des outils vidéo (encore réservés aux nantis) permettant désormais d'immortaliser les parties fines et autres orgies dantesques. Le basculement visuel se fait donc également par le passage des sixties aux seventies. Basculement vestimentaire évidemment (les blazers sobres cèdent la place aux pattes d'éph', rouflaquettes et autres chemises à jabots) mais surtout comportemental avec un Bob Crane jusque-là discret sur ses frasques, affichant désormais ses perversions au grand jour (il montrait notamment les photos de ses ébats à ses partenaires sur les plateaux et fut un temps interdit de garde après avoir monté des pornos devant ses enfants). L'adage "Une journée sans sexe est une journée de perdue" attribué à Crane s'avère donc particulièrement parlant et montre le point de non-retour franchi par celui-ci.
Halloween
). Schrader évite l'écueil faisant de Hollywood la grande Babylone pervertissant un innocent Bob Crane, ce dernier étant déjà un amateur de revues pornos. La célébrité ne sert donc que d'élément déclencheur pour attiser une libido déjà bien bouillonnante, et qui trouvera sa pleine expression avec la rencontre de John Carpenter. Schrader capte avec une acuité rare l'étonnante promiscuité et la quasi-relation de couple de deux hommes hétérosexuels. Modeste technicien chez Sony, Carpenter désinhibe Crane en lui faisant découvrir un monde de plaisir et de perversion tandis que celui-ci par sa notoriété lui donne accès aux filles faciles.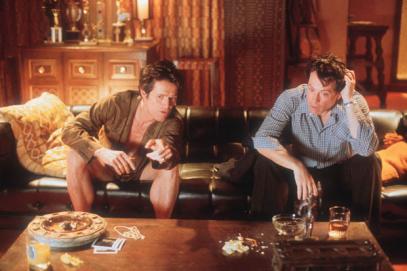 Sans tomber dans l'imagerie érotique outrancière, l'escalade des expérimentations sexuelles des deux hommes est largement évoquée. C'est pourtant une courte séquence où il se masturbent côte à côte devant un film en discutant nonchalamment de la pluie et du beau temps (ou presque, puisqu'ils débattent des meilleures villes des Etats-Unis en matière d'orgies…) qui démontre le lien malsain qui unissait les deux hommes. Willem Dafoe, si bon quand il joue des personnages dominateurs et imposants (comme le Bouffon vert de
Spider-Man
) est impressionnant ici, tout en retenue fragile avec cette détresse de l'amant blessé qui se lit constamment dans son regard... John Carpenter fut d'ailleurs longtemps le suspect numéro 1 des enquêteurs suite au meurtre de Bob Crane (il fut jugé deux fois au moment des faits et une dizaine d'années plus tard mais innocenté faute de preuve), ce que suggère largement Schrader dans sa conclusion sans l'affirmer ouvertement.
Papa Schultz
après la découverte de l'envers du décor, pour ce qui demeure sans aucun doute un des meilleurs films de Paul Schrader.
Sorti en dvd zone 2 français chez Sony